The Static Cling post talks about how to control dust in case tumblers using scented fabric softener. This is a follow up post to talk about the tumblers themselves. There are two basic types. The vibrators and the rotary tumblers. Both have their uses and will do the job. I believe the rotary tumblers will last the longest, but they cost more. They also will seal so that liquid media can be used. Most vibrators have the motor attached to the bottom of the bowl such that they will leak liquid on to the motor, thus they are not recommended for liquid media.
Over the years I have evolved the following generic cleaning method. Toss the brass (after sorting to avoid mixing calibers) into the vibrator and walnut shell media. My vibrator cleaner is the smallest size so it does not do well with a massive number of cases. In the picture below, the vibrator cleaner is on the right, and is shown with a hundred 45 ACP cases. For larger cases, like 45 colt, I only clean 50 at a time, or 25 rifle cases. I run them for about three hours. It cleans them fairly well, but I prefer a new, shiny look. For that, I use the rotary tumbler with a small amount of liquid polish (I use Dillon Rapid Polish 290) added to the corncob media, which does a fine clean and spiffy polish. I run the rotary about an hour. That is after the basic first clean. The rotary is on the left side of the picture below.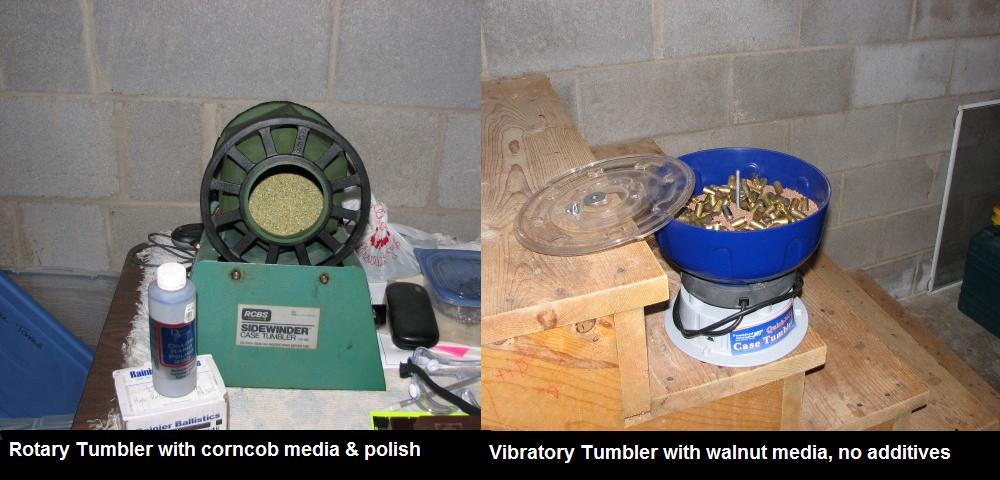 Tumblers
The two step procedure I use can be accomplished with only one case cleaner, but you will be constantly changing the media back and forth, and liquid additives are a risk with the vibrators. (Just use a tiny amount and let it absorb in the media before turning on the vibrator type.)
The rotary tumbler has seen many uses (including lapidary work) and is 25 years old. The vibratory tumbler is about a year old and has failed twice. Both times, the power lead to the motor broke at the solder joint and was re-soldered. This was due to lack of vibration protection of the motor wire connections. I suspect most vibrators will be susceptible to this failure mode. The rotary occasionally fails due to the metal roller gears wearing the plastic bin edges smooth. I correct this with quarter inch flexible door seal tape and it works great for about six months till the tape wears off and needs replacing.